COST ACTION: About the Project
COST is the first and widest European intergovernmental framework for transnational Cooperation in Science and Technology. It enables break-through scientific developments leading to new concepts and products and thereby contributes to strengthening Europe's research and innovation capacities.
The aims of COST Action IS1401 are to develop an integrated approach to literacy across Europe, to create a comprehensive framework of developmental aspects of literacy and education in a digital world and to further improve literacy technologies. The main objective of this Action is to secure a European Literacy Network (ELN, http://www.is1401eln.eu/en/) that builds upon existent reading and writing research communities. The ELN is coordinating a global European response to the challenges of the on-going digital revolution.
The work within the framework of the Action is realized via three Working Groups: "An Integrated and Inclusive Approach to Foundational Literacy Across Europe" (WG1), "Developmental Aspects of Literacy and Education in a Digital World" (WG2), and "Improving Literacy Technologies" (WG3).
COST Action IS1401 involves 33 COST Countries (Austria, Belgium, Bosnia and Herzegovina, Bulgaria, Croatia, Cyprus, Czech Republic, Denmark, Finland, France, FYR Macedonia, Germany, Greece, Hungary, Iceland, Ireland, Israel, Italy, Lithuania, Luxembourg, Malta, Netherlands, Norway, Poland, Portugal, Serbia, Slovakia, Slovenia, Spain, Sweden, Switzerland, Turkey, United Kingdom), 10 International Partner Countries (Australia, Brazil, Canada, Chile, China, New Zealand, South Korea, Taiwan, USA, Zambia), and 3 Near Neighbor Countries (Albania, Belarus, Ukraine). Ukraine is represented by Prof. T. Yakhontova, Ivan Franko National University of L'viv. She took part in the ELN Inaugural Conference (Prague, Czech Republic, November 2015) and made there a presentation on the genres of undergraduate writing at Ukrainian universities.
COST ACTION: Meeting in Ljubljana, Slovenia
On April 18-20, 2016, the Meeting of the ELN COST Action IS1401 was held in Ljubljana, Slovenia. It was organized by the Faculty of Education of the University of Ljubljana. The Meeting was mainly devoted to the progress of working groups in accomplishing the Action's societal goals and in establishing ELN's societal team. It gathered in Ljubljana the representatives from the Action's three Working Groups and their most active teams. Plenary addresses were made by Tatyana Yakhontova (Ivan Franko National University of Lviv, Ukraine), Daleen Klop (Stellenbosch University, the South African Republic) and Sven Strömqvist (University of Lund, Sweden).
COST ACTION:
A visit to Birkbeck, University of London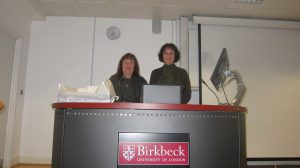 On November 28-December 7, 2016, Tatyana Yakhontova visited Birkbeck, University of London, with a short-tem scientific mission (STSM). Her host was Dr. Bojana Petric, Department of Applied Linguistics and Communication Studies, a team leader of the Working Group 2 within the COST Action IS1401ELN. The overall purposes of the STSM included: intensive consultations with Bojana Petric on interviewing in writing research and on developing English writing courses for mature learners; visits to the workshops and seminars, relevant to the purpose of the mission; library work; a presentation on writing issues at the seminar of the Department of Applied Linguistics and Communication Studies. These aims were fully accomplished during the STSM, which appeared to be a great opportunity of strengthening collaboration in COST Working Group 2 and furthering the implementation of its research goals.
COST ACTION IS1401: Meeting in Jyväskÿla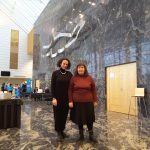 On February 2-3, 2017, the meeting of the ELN COST Action IS1401was held at the University of Jyvӓskӱla, Finland. It was organized by the Faculty of Psychology. The participants of the Meeting were the members of Working Groups 1 and 2 who discussed their activities and outlined future plans. Within Working Group 2, the Academic Literacy Team focused on its own research project dealing with Bachelor's and Master's theses writing at European universities. The project is being implemented by Mira Bekar (FYR Macedonia), Bojana Petric (the UK), Anita Peti-Stantic (Croatia), Alma Jahic (Bosnia and Herzegovina), Claudia Doroholschi (Romania), Christiane Donahue (the USA), Karl-Heinz Pogner (Denmark), Tatyana Yakhontova (Ukraine) and others.
COST ACTION IS1401: Training in Skopje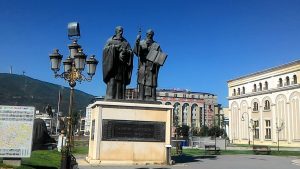 On May 16-18, 2018, a training school on qualitative and mixed methods in writing research was held in Skopje, Macedonia. It was conducted within the framework of the COST Action IS1401 "Strengthening Europeans' Capabilities by Establishing the European Literacy Network" (2014-2018), supported by the EU Framework Programme for Research and Innovation "Horizon 2020." The training was organized by the Blaze Koneski Faculty of Philology, University of Ss. Cyril and Methodius. Nineteen young researchers from Bulgaria, Croatia, Estonia, Macedonia, Malta, Portugal, Serbia, Spain, the UK and Ukraine were selected for participation on a competitive basis. One of the invited trainers of the School, Prof. T. V. Yakhontova, conducted two workshops, focusing, respectively, on genre analysis and the writing of a qualitative research paper (the latter one was prepared in collaboration with Dr. Bojana Petric, the University of London, and Dr. Mira Bekar, the University of Ss. Cyril and Methodius). Another guest from Ukraine, Dr. Oryslava Ivantsiv, a former postgraduate student of the Faculty of Foreign Languages, the Ivan Franko National University of Lviv, and nowadays an Associate Professor of the Department of Theory and Practice of Translation, Volodymyr Hnatyuk Ternopil National Pedagogical University, was a participant and an invited lecturer of the Training School.